For the 2018/19 series we again welcome sponsors KinesisUK and BSK Custom Clothing
ALL YOU NEED TO KNOW FOR THE WINTER SERIES
EIGHT OUT OF TEN ROUNDS TO COUNT For Prizes – everyone completing 8 events will be entitled to prize money.
All prize money needs to be collected by the 31st January 2019 or it goes back into YCCA funds to support our youth trips to race in Belgium. If you wish to donate your winnings, you don't need to do anything.
If you wish to claim your prize money,please send a stamped addressed envelope to Peter Sutton at:
UNDER 8/10/12 races are Stand alone.
YCCA Celebration Dinner
Saturday 23rd February
Dubrovnik Hotel
3 Oak Avenue
Bradford
BD8 7AQ
7 for 7.30pm
2018/19 Calendar:
In Under 12s NO exchange of equipment is now allowed in any cross race. This means no exchange of bike, wheels etc.
02-09-2018 Yorkshire Points 1 – Middleton INFO/RESULTS
09-09-2018 Yorkshire Points 2 – Wyke, Bradford INFO/RESULTS
16-09-2018 Yorkshire Points 3 – Bedale INFO/RESULTS
23-09-2018 Yorkshire Points 4 – Temple Newsam, Leeds INFO/RESULTS
30-09-2018 Three Peaks Cyclo Cross INFO
07-10-2018 Addingham INFO/RESULTS 
National Trophy Round 1 :  6-7 October 2018 Moorways, Derby INFO
14-10-2018 Yorkshire Points 5 – Yorkshire Showground, Harrogate INFO/RESULTS
21-10-2018 Yorkshire Points 6 – Huddersfield New College INFO/RESULTS
28-10-2018 Pateley Bridge  INFO/RESULTS
National Trophy Round 2 : 27-28 October 2018 Beach Park, Irvine INFO
04-11-2018 Yorkshire Points 7 – Skipton INFO/RESULTS
11-11-2018 Under 12 Yorkshire Championship With supporting Youth and Adult Racing. Wath-upon- Dearne INFO/RESULTS
National Trophy Round 3: 10-11 November 2018: South of England Event Centre, Crawley INFO
Cyclists vs Harriers :17th November 2018 Bingley – INFO
18-11-2018  Yorkshire Points 8 – **Wyke ** New Venue INFO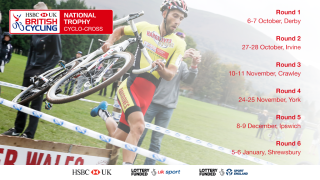 National Trophy Round 4: 24-25 November 2018 York Cycle Sport, York INFO
02-12-2018 North of England Championship – Peel Park,Bradford INFO/RESULTS
09-12-2018 Giggleswick School, Settle INFO/RESULTS
National Trophy Round 5: 8-9 December 2018 Trinity Park, Ipswich INFO
16-12-2018 Yorkshire Points 9 – **Thornes Park,Wakefield INFO/RESULTS  **New Date
23-12-2018 Fancy Dress Cross INFO/RESULTS
30-12-2018 Yorkshire Points 10 – Todmorden  INFO/RESULTS
National Trophy Round 6: 5-6 January 2019 Shrewsbury Sports Centre, Shrewsbury INFO
2019 HSBC UK | National Cyclo-Cross Championships: 12-13 January Cyclopark, Gravesend INFO
18-01-2019 Friday – Winter Series Prize Presentation :
The New Tyke, Thornton Road, Thornton, Bradford BD13 3DG
20th January 2019 – YCCA AGM
11am at Bradley Wood Campsite & Activity Centre
Shepherds Thorn Lane, Brighouse HD6 3TU
23rd January 2019 – YCCA Celebration Dinner
Dubrovnik Hotel, 3 Oak Avenue, Bradford BD8 7AQ
2018 Info:
HOW DO I ENTER THE SERIES
If you are changing age category, please hand in your OLD number at the first Winter Event you attend and it will be exchanged free of charge for your new category number. Otherwise, you will have to pay a £2 re-registration Fee.
3) NEW RIDERS OR THOSE WHO HAVE NOT RIDDEN WINTER 2017/18 OR SUMMER 2018
JUST TURN UP ON THE DAY AND PAY A REGISTRATION FEE (£2) AND COLLECT YOUR NUMBER FROM THE NEW RIDER TABLE before going to sign on. You keep this number until you change age categories.
4) UNDER 8/10/12 RIDERS
They will all be able to keep their number for the Winter 2018/9 and Summer 2019 Series,
Numbers are to be returned at the last event they attend in Summer. Again, there will be a £2 registration fee. This is paid with their entry fee at the Under 8/10/12 signing on desk at their first event and not at the new rider table.
NUMBERS REMAIN THE PROPERTY OF YCCA AT ALL TIMES.
RACE TIMES
ALL OUR EVENTS ARE CHIP TIMED.
CHIPS ARE WORN ON LEFT ANKLE UNDER YOUR SOCK AND COLLECTED A SAFE DISTANCE FROM THE FINISH LINE IN ORDER TO KEEP THE FINISH CLEAR FOR SPRINTS. PLEASE DON'T LEAVE THE AREA UNTIL YOUR CHIP HAS BEEN HANDED IN. DO NOT PLACE CHIPS ON YOUR WRIST, HANDLEBARS, IN YOUR POCKET OR IN THE CAR! A £20 CHARGE WILL BE LEVIED FOR LOST CHIPS.
NO CHIP WORN ON ANKLE-NO RESULT!
Get there in plenty of time to sign on.
Signing on for the U8,U10,U12 will open an hour before each race and for all other categories, an hour an a quarter so you have plenty of time.
Podium Arrangements:
As before Podium Prizes will be awarded on the day and series prizes at the end of the season with 2 less than the final number of Yorkshire Points Rounds run to count.
Podium will be AS follows subject to riders being identified.

1st 3 U8,U10,U12 Boys and Girls. No series prizes just on the day. There are no money prizes this year but special awards for the top 3 in each race.

1st 3 U14, U16 Boys and Girls plus money prizes on the day,
VET 45+ Race -1st 3 V45, 1st 3 V50, 1st V60+
Women's Race- 1st 3 Women over the line plus 1st Jun Women, Sen Woman or Vet Woman if not in top 3 over the line.
SEN RACE  1st 3 Seniors, Juniors and Vet 40-44
**If you are a V45-49 you can race in the S/J/V40-44 Race if you require BC Points. The purpose of splitting the V40 cat is to even numbers in the two races.
See below for Age Cats, Sign On Times and Sign On Flow Chart